Alumni and Donors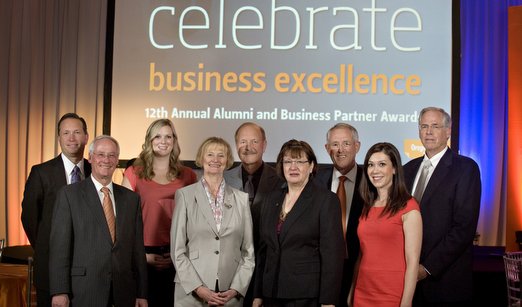 The College of Business has thousands of distinguished and supportive alumni. You are well-educated, creative members of society whose innovative ideas help usher in the future. You care about the health of your planet, people and economy, and this shows in the work you do around the world. This is your source for news and events in your College of Business community.
College of Business students and faculty are dedicated to creating a healthy economy, keeping in mind the need for sustainable businesses with a social conscious. We help students transition from academia to the business world by fostering a unique experiential learning opportunities, like the Austin Entrepreneurship Program, the Business Solutions Group and the Arthur Stonehill International Business Exchange Program, to name just a few.
The College of Business helps businesses in Oregon, the region and the nation adapt to changing social, economic and environmental dimensions.
Your own concern for these things helps us thrive, and we appreciate your role in keeping our legacy strong. Whether you have one hour or one week, it is easy to get involved with the College of Business. Review a student resume at your leisure. Attend a Business Alumni Network event. Speak at a class. Have a student shadow you at work one day. Recruit and hire from your alma mater. Or, if you want to take more time, be part of an advisory council.
Some alumni get involved with dollars, some with time. Both are extremely valuable ways that enhance the learning experience of students and enrich the overall College of Business experience. If you want to get involved, contact Malcolm LeMay, Director of Operations, (541) 737-6021 or malcolm.lemay@bus.oregonstate.edu.
At the College of Business, we make every effort to improve our programs and outreach services. Please let us know how you like the College of Business web site and how we can serve you better.