Celebration of Excellence

The Celebration of Excellence has been rescheduled to May 5, 2014 at the Hilton Portland & Executive Tower.
Click here to register by April 24, 2014 and for further information.
5:30 p.m. Reception
6:30 p.m. Dinner and awards presentation
The Celebration of Excellence will recognize outstanding professional achievements and services to the college by alumni and business partners as well as recognize entrepreneurs who have furthered Oregon's pioneering spirit. This event has been rescheduled from February 6, 2014.
2014 Celebration of Excellence Honorees
Alumni and business partners:
Hall of Fame: Jim Williams, CTK Capital Corporation
Distinguished Business Professional: Jill Eiland, Intel
Distinguished Early Career Business Professional: Peter W. Newport,
Sawyer Paddle & Oars
Distinguished Young Business Professional: Tim Jakubowski, KPMG
Distinguished Business Partners: Fred Meyer and Mutual of Enumclaw
With Weatherford Awards presented to:
Chris Botti, Grammy Award Winning Musician and Composer
Bert Sperling, Sperling's BestPlaces
Click here to register by April 24, 2014.
5:30 p.m. Reception
6:30 p.m. Dinner and Awards Presentation
For more information about the event, contact Rachelle Nickerson at 541-737-1109 or rachelle.nickerson@oregonstate.edu
Thank you to our sponsors!
Gold Level:
Andersen Construction Company
OSU Alumni Association
Silver Level:
Aequitas Capital Management
OSU Foundation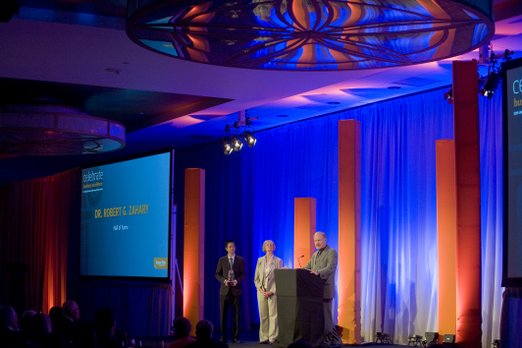 College of Business Hall of Famer Dr. Robert Zahary accepts his award.