Inara Scott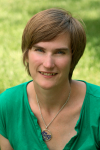 Assistant Professor
Department: Global Business Analysis
Office: 484 Austin Hall
Phone: 541-737-4102
Email: inara.scott@bus.oregonstate.edu
Inara Scott practiced law for over a decade before joining the faculty at Oregon State University. In private practice, Inara represented clients on matters including general corporate and business law, employment, construction, and products liability. She went on to specialize in energy and regulatory law, representing a variety of utility clients across the Northwest. Inara's research at Oregon State centers on the transformation of the utility system, clean energy, energy efficiency, and utility regulation.
Table of Contents:
Education
JD, Northwestern School of Law of Lewis and Clark College, summa cum laude
Environmental Law Review, Notes and Comments Editor, 1999 to 2000
MS, Recreation and Leisure Studies, State University of New York at Cortland
Assistant Editor, Taproot, Coalition for Education in the Outdoors
AB, Duke University, Phi Beta Kappa, summa cum laude
History, Certificate in Women's Studies
Return to Table of Contents
Employment
Manager, Rates and Regulatory Affairs, NW Natural (2007-2010) Represented utility in complex negotiations and proceedings before the Oregon and Washington Public Utility Commissions, including resource acquisition and integrated resource planning.
Assistant General Counsel, Portland General Electric (2005-2007) Represented utility in proceedings before Oregon Public Utility Commission and Federal Energy Regulatory Commission, complex rulemaking proceedings implementing utility tax measures, and negotiating transactional agreements for gas pipelines.
Associate, Ater Wynne LLP (2001-2005) Practiced commercial, business, and energy law. Advised people's utility districts, investor-owned utilities, and cooperatives on regulatory compliance, including FERC hydropower licensing and compliance, and contracts with the Bonneville Power Administration.
Return to Table of Contents
Publications
Journal Articles
Conference Papers
Presentations
Miscellaneous
Magazine Articles
Return to Table of Contents
Professional Affiliations
Oregon State Bar (member in good standing, 2001-present)
Energy Bar Association (member, Demand Side Resources & Smart Grid, Electricity Regulation Committee)
Return to Table of Contents
Courses Taught
Northwest Energy Law, Business Law (undergraduate and graduate), Environmental Law & Business
Return to Table of Contents
Additional Information
Contact
Email: inara.scott@bus.oregonstate.edu
Twitter: @newenergyprof
Phone: 541-737-4102
Return to Table of Contents