Undergraduate Programs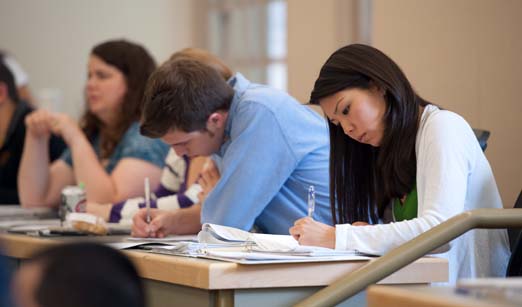 The OSU College of Business offers more majors than any other business school in Oregon. Find the degree program that works for you:
Accounting: This rigorous program prepares you for a successful career in fields such as tax accounting, cost accounting, auditing, corporate accounting, and not-for-profit accounting. (B.S.)
Business Information Systems: A blend of operations, management, computer science, and engineering, the BIS curriculum teaches how to harness technologies to help organizations become and remain competitive in today's professional environment. BIS graduates have become software engineers, business process analysts, quality control managers, IT auditors, and more. (B.S. or B.A.)
Finance: The financial field involves managing funds in our economic system. You will learn institutional financing skills to launch careers in banking, insurance, securities, or a similar field. (B.S. or B.A.)
Management: Become proficient at getting things done through successfully managing people, systems, projects, processes, and quality. (B.S. or B.A.)
Marketing: With a marketing degree, you can step into a variety of organizations including manufacturing companies, service firms, retailers, wholesalers, advertising agencies, media, and government agencies. (B.S. or B.A.)
School of Design and Human Environment
Apparel Design: Apparel designers work with design teams to develop new styles for a target market. Designers create concepts and sketches for fashions one to two years in advance of the market. Technical designers make designs a realty by working out exact details of style for production.
Graphic Design: Graphic design professionals are creative strategists who create visually dynamic messages for targeted audiences. From logos and branding campaigns to magazines and websites, graphic designers provide the visual representation of ideas and messages.
Interior Design: An interior designer is responsible for the function and aesthetics of a commercial or residential interior space, while factoring in the needs of those using the space. Interior Design majors are well versed in human behavior, textiles, business and digital visualization; and are prepared for careers with commercial companies that specialize in healthcare, hospitality, education, retail and corporate design.
Merchandising Management: Students in Merchandising Management program are prepared for positions in retail management, product merchandising and market research. In a global, diverse, fast-paced and competitive environment, merchandisers are involved in market analysis, pricing, distribution, visual presentation and many other aspects of the supply chain.
Additional Degrees/Options
Entrepreneurship: Earn your degree in Business Administration with an option in entrepreneurship and learn to recognize and develop opportunities in both profit and not-for-profit organizations. (B.S. or B.A. in Business Administration)
General Business: Only offered at OSU-Cascades. (B.S. or B.A.)
Hospitality Management: Only offered at OSU-Cascades. (B.S. or B.A.)
International Business: This option prepares students for management positions in organizations engaged in international trade. (B.S. or B.A. in Business Administration)
Innovation Management Double Degree: Available only for non-business majors. Gain expertise in developing new ideas and inventions and learn how to take these ideas through the innovation and commercialization process. Provides students with a foundation in business basics while also building expertise in the innovation and commercialization process.