Marketing (B.S. or B.A.)
Hal Koenig, Marketing Program Coordinator
541-737-4117
Email: Hal.Koenig@bus.oregonstate.edu
Phone: 541-737-4117 Email: Hal.Koenig@bus.oregonstate.edu
Marketing major specific requirements
---
Overview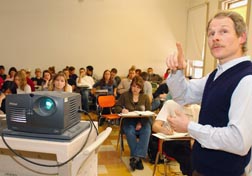 The Marketing curriculum provides students with technical marketing skills and leadership training. Opportunities exist for marketing graduates in a wide variety of organizations, including manufacturing firms, service firms, retailers, wholesalers, advertising agencies, the communications media, and government agencies. Career options include sales, advertising, retailing, brand management, logistics management, market research, purchasing management and more.
The heart of Marketing is matching supply and demand in a complex, advanced economy. Marketing consists of a sequence of activities : identifying customer needs, developing goods and services to satisfy those needs, communicating information about products to potential customers, and distributing the products to customers. In small firms, a few people must carry out all the marketing functions or activities. Large corporations, on the other hand, tend to hire people with specific potential or skills to fill more specialized job requirements.
Marketing courses are taught by faculty that have contributed original research in the field, published in the top marketing journals, and have consulted with Fortune 500 companies including Hewlett-Packard, General Motors, Kellogg, Harley-Davidson and Coors.
---
Curriculum
Your freshman through junior years will be largely confined completing the OSU baccalaureate core and the Business Core (see Requirements.) These courses are required of all Business students. Marketing courses start your junior year. Students need to review the Marketing major specific requirements. Beginning with winter 2010 all pro school applications will be for the Marketing major.
---
Enrichment Activities
Participating in marketing-specific "enrichment" activities enables you to expand your understanding and build your skills beyond the classroom. The Marketing Club hosts a variety of functions that put you face-to-face with potential employers and connect you with fellow students and faculty. Being active in club activities helps increase the opportunities of finding a job after graduation.